National Park Week: Top 10 National Parks for Camping When trying to make your bucket list of spectacular National Parks, you have 106 to choose from; 59 in the US and 47 in Canada. Here's our Top Ten (or 11) National Parks for camping to See Before You Die.
Photo Credit: Google Images
Yellowstone National Park
Though primarily in Northwestern Wyoming, Yellowstone Park covers parts of Montana and Idaho. Totaling "roughly" 2.2 million acres, from the Park's website: "No area figures have been scientifically verified. Efforts to confirm the park's total area continue.". Best visited in spring & fall, the park sits atop an active supervolcano and boasts 500 active geysers (½ of all in the world), 290 waterfalls and over 10,000 hydrothermal features. Do NOT feed the bears. Photo Credit: Google Images
Yosemite National Park
Famous for trees so big you can drive a car through it, California's Yosemite National Park is 748,000 spectacular acres of epic waterfalls, and granite cliffs, not to mention the iconic Half Dome. Best seen in spring and summer, our tips is to go in spring & beat the crowds and don't miss Mirror Lake.
Photo Credit: Google Images
Zion National Park
Known for it's incredible red sedimentary rock formations, Zion National Park is one of many incredible Must See spots in Utah. Despite being one of our smaller National Parks, encompassing only 148,000 acres, the landscape features some of the most unearthly landscapes, such as Bryce Canyon. Best seen in spring & summer, be sure to check out The Narrows and Hidden Canyon.
Photo Credit: Google Images
Grand Teton National Park
It's a shame that this name requires some introduction because within the 300,000 acres of Grand Teton National Park lie some of the most iconic scenery in the US Rocky Mountain region. Best seen spring-through-fall, we definitely have suggestions on must-see places in the Park, but in order to raise awareness of the Parks need for protection, the Park Service has put together Virtual Tours so you can decide for yourself.
Photo Credit: Google Images
Biscayne National Park/Dry Tortugas National Park
Saving up your vacation time for late winter may seem backward, but not if you are planning an epic mix of scuba diving, sailing and island exploration. This best-kept-secret trip starts just outside of Miami in Biscayne National Park. Never heard of it? That's because much of its 172,000 acres is underwater. Show up after the crowds in spring, rent a boat or get a ride to one of the tiny Keys where primitive camping is allowed. After a couple days of scuba diving and exploring shipwrecks, sail 70 miles West of Key West to Dry Tortugas National Park, a 143 acre island you will need a magnifying glass to find on the map. Photo Credit: Google Images
Banff National Park
Feel free to flame us for saying that while all of the US Rockies are spectacular, none of them can top Banff National Park in Alberta, Canada. The must-see list for this one is simply beyond the scope of this article. Best seen in spring & summer (unless you are skiing), prepare yourself for 1.6 million acres of the most spectacular mountains & mountain towns you will ever see in your life. Photo Credit: Google Images
Crater Lake National Park
This jaw-dropping, must-see destination needs to be timed just right to be fully appreciated. Due to it's elevation, you have a narrow window in July & August to really take in the beauty of this extinct volcano. Part of the Mt. St. Helens volcanic chain, Crater Lake was formed after the eruption of Mt. Mazama. After things cooled off, it left behind at the top of the volcano a natural lake, with an unbelievable depth of 1,900 feet. The 183,000 acres park mostly encompasses this incredible one-of-a-kind geological marvel. Though no streams flow in or out of the lake, don't forget to check out some of the spring-fed waterfalls on the slopes of the volcano.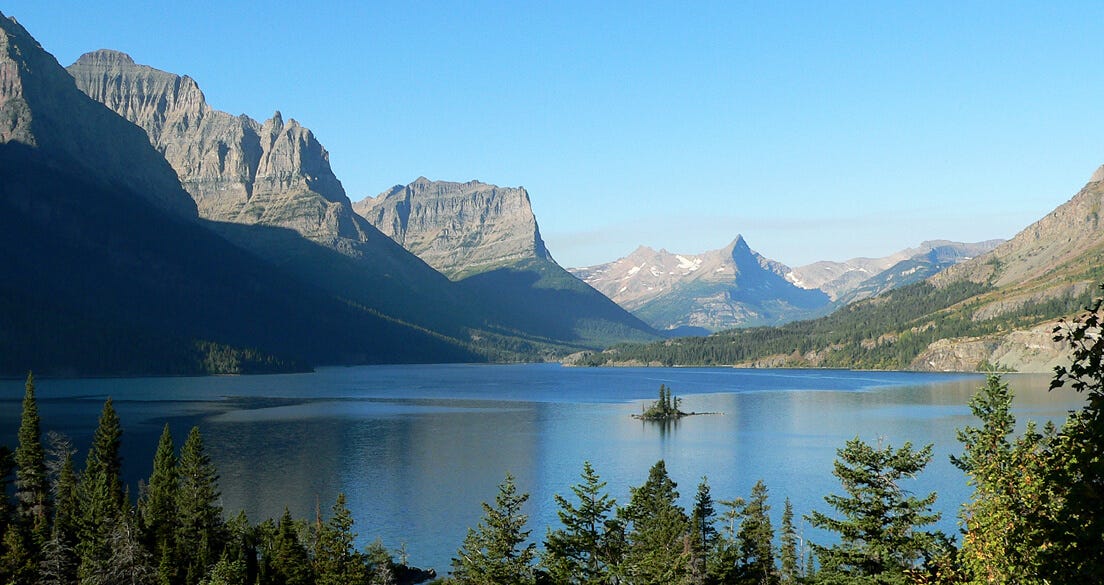 Photo Credit: Google Images
Glacier National Park
Likely a close 2nd to Banff National Park, Glacier National Park in Northern Montana is the quintessential place to get a sense of the Lower 48 Rocky Mountains and may just be the #1 destination on your bucket list. Best seen in midsummer, of the over 700 glacial lakes in the park, only 131 of them even have a name. True to its name, the Park still has 25 glaciers to see within its 1 million acres. Though Lake McDonald is a hot destination, we quietly suggest Grinnel Galcier, and Nakimu Caves for the more adventurous.
Photo Credit: Google Images
Jasper National Park
If Banff inflamed your sense of adventure & appreciation for the great outdoors, it would be irresponsible to not go a little farther North and see Jasper National Forest, also in Alberta, Canada. Simply put, the Lower 48 Rockies can't entirely compare to the near-pristine wilderness areas of Canada. At twice the size of Banff National Park, many think Jasper is "bigger and better". Best seen in summer, check out Athabasca & Sunwapata Falls and Maligne Canyon & you tell us.
Photo Credit: Google Images
Mt. Ranier National Park
It's hard to believe that such a well-known National Park comes in relatively small at 200,00 acres, but it's household name-status is not without reason. Best seen midsummer, cars can only make it 6,400' above sea level of the 14,410' glacier-capped mountain. Take a hike through Box Canyon and the Tipsoo Lake Loop but don't moss Patriarchs Trail and our favorite, Snow Lake Trail.
The Best Tents for Camping in the National Parks
Celebrate and support America's great open spaces and by camping in as many National Parks as you can! Exlpore our blog for great adventure ideas and inspiriation. Follow CanvasCamp on socail media @canvascamp and let us know what we left off this list!