Festival Camping Accessories: Best Of
The Best Accessories for Festival Camping
Camping at a festival is different than camping in the wilderness, but you still need to be prepared! Weather your a first timer wondering what you should pack for festival camping, or an old pro gearing up for another great season...Check out our list of must have festival accessories. What did we leave off the list?
The Perfect for Everything Blanket from Rumpl
We LOVE the the Rumpl Puffy Blanket for indoor and outdoor use and rave about it frequently. Made of the same stuff as high end sleeping bags and fancy puffy jacks, this toasty blanket is available in synthetic or down. Packs down small in it's own stuff sack for easy transport. The water resistant and rip stop fabric resists dirt, odor, pet hair, beer, greasy hands, and anything else you encounter outside or inside. Throw it on the ground as a picnic blanket or curl up with a festi friend as the night winds down. Available in a variety of colors: Festi Fade being the obvious choice for festivals!
Light Up the Darkness!
Aside from the glow stick, the best accessory for any festival camp has to be solar powered LED string lights. Cheap, easy to find, and they come in a variety of colors and styles. Run the string lights through the loops on your tent for ambient lighting and to prevent people from tripping and running into your tent in the dark. Most string lights these days hold their charge for days and automatically turn on when the sun goes down.
String lights give your tent a unique signature and make it easy to identify in the dark. Set 'em to blink mode and make your tent an easy to spot meet up point for friends. You may (or may not) be surprised at how many people forget where their tent is after a mind blowing show.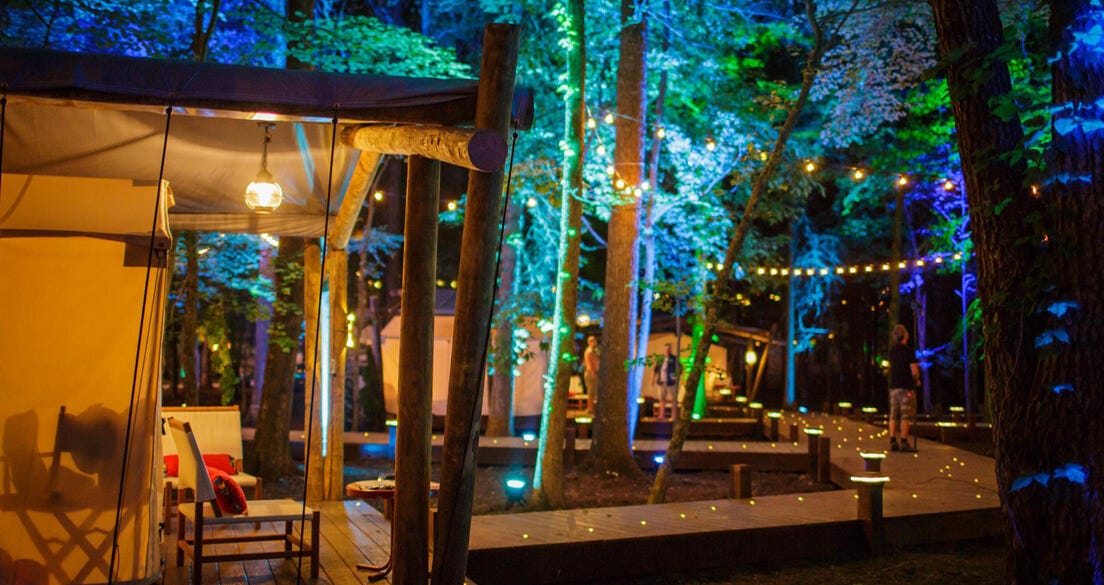 Water is Life
Keep a big water bottle at camp along with get a big (5L+) jerry can to refill. If there is free potable water the concert stages, keep a flat, plastic collapsible water bottle with a carabiner on you (check out the platypus). Many venues don't let you bring open containers but they're usually cool with it if the bottle is empty. Most running water in the United States and Europe is not only safe to drink, but a higher quality than bottled water. If there is no other option than to purchase plastic bottled water at the concert stages, organize a protest…but also stay hydrated.
Coozie (with neck strap)
70% of unfinished beverages are a direct result of setting down a drink with the intention of picking it up again. Although that may be an alternative fact, keeping an eye on your drink does cut down on waste. Go hands free and hang your drink around your neck.
Ice Ice Baby: Ain't nothing like a cold drink on a hot day
A good cooler goes without saying, not just for cold beverages but also to slow down food rot. The best cooler made by man is hands down the Yeti, but it's also extreamly expensive. You can prolong the life of a lesser quality cooler by sticking a block of dry ice in there, in addition to regular ice. Don't touch the dry ice with bare skin….not even on a dare bruh.
Welcome Mat
Not in the proverbial sense. An actual mat for the front door of your tent. A welcome mat encourages you (and your guests) to take their shoes off before entering your tent without the getting your socks dirty.
Seems like over kill? Not if you've ever witnessed the awkward gymnastics of an uncoordinated individual slipping a shoe off, stepping into a tent, then trying to kick the other shoe off without setting the foot down. A welcome mat also provides an effective foot wiping area. Planning on wearing sandals? Read on…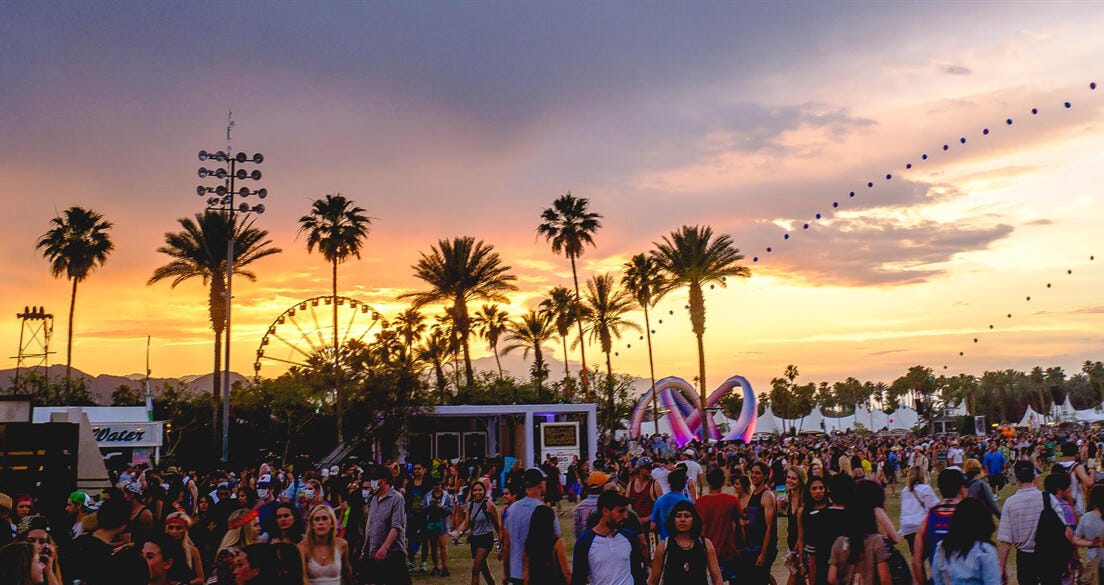 Festival Buddy
You can't buy a buddy but having one is really great. Sharing a festival experience with a friend or loved one is a profound experience. Splitting the cost of gear and transport is also great. It's also a good idea to keep each other in line and watch one another's back. You can make new buddies once you get there, but BYOBuddy is a good idea.
Shoes Required (socks recommended)
First time festival campers may not be aware of the most widespread skin condition in the camping world: hippy foot. Hippie foot presents itself as a black foot sole resulting from a build up of dirt that has been packed into the skin by walking, jumping, and/or dancing.
The primary causes of most cases of hippy foot is the (amateur) move of wearing flip flops, slippers, or sandals to a festival. Severe (acute) hippy foot is typically caused by going barefoot by choice or because you lost your shoes. The most common cause of acute hippy foot is that you lost just one shoe, and then threw the other one out because it was holding you back.
Hippy foot does not make you a hippy and is not confined to the traditional hippy music genres. If you meet someone special at a festival, always check them for hippy foot before inviting them into your tent.
Good foot wear with arch support and covered toes is probably the best thing you can do for your personal comfort at a music festival. If you're not moving your feet, your probably not going to make it through the second day. Keep a pair of sandals back at camp for expert level festival camping comfort.
Festival Essentials Checklist
After you've covered the big ones: water, shelter, food, clothing (for warmth, not fashion)…. Make sure you pack these essentials when camping at a festival
Tent
Sleeping Bag & Pad
Headlamp
Baby wipes
Water Bottle
Sunglasses (Croakies if you're that guy)
Sunscreen
Shoes (Read more on hippy foot above)
Rain Jacket
Pocket Paper: Your name, where your camping, your festival buddy's name and contact number.
Tickets to the show!



Festival Camping Tents
To learn more about festival camping tents, visit our blog about how to choose the perfect tent at: https://www.canvascamp.com/en_us/blog/how-to/festival-camping-tents