Top Music Festival Camping in North America The United States of Festivals
If you grew up in the States, you've probably got an uncle who followed around the Grateful Dead for years, or was at Woodstock. Music festival camping in North America is something everyone should experience. If you don't have time to see all the festivals this summer, here's the top 15 music festivals that are great for camping.
Probably the ultimate camping festival experience, Burning Man, with its principles of radical inclusion, self-reliance and self-expression, is one of the most unique gatherings in the world. A source of awe-inspiring art, mind altering music, dust storms and smiling faces, it's on many people's bucket list and has influenced people all over the world. Before you go, read their 10 principles and survival guidelines so you know what to expect and what to do with your MOOP.
Joshua Tree Music Festival held in spring and fall when the temperature is just right. Experience desert hospitality, art and a wide variety of music. Located in an intimate setting, with two stages that face each other, so when one set is over, turn around and you're ready to go!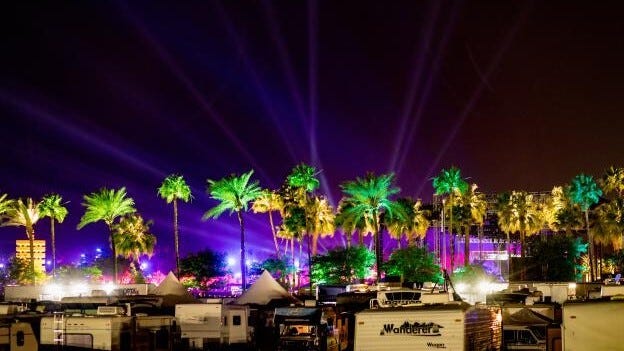 Bust out your flower crowns and sunglasses, Coachella has headliners, a party vibe and a non committal brand of hipness. Well known not only for its music and fashion, but also its tasty food choices, where it's easier to find kombucha or a cashew smoothie than a Diet Coke. Don't forget to bring some type of shade as you're camping in the desert and sleeping without getting baked is crucial. Shower wait times are between 2-3 hours, so consider bringing a sun shower or wet wipes.
Lightning in a Bottle world-renowned musical acts, but also a mindful, conscious approach, which includes yoga classes, organic food and progressive workshops.
Symbiosis Gathering is inspired by novelty, community and authenticity. It may not have bands you've heard of, but it's an open-minded, eco-conscious, and intimate experience alongside a lake that brings people back every year.
Sasquatch! Music Festival has a diverse line-up that focuses on bands outside the mainstream. Beautifully scenic, it's looks out along the Columbia River, Cascade Foothills and Columbia Gorge Canyon. Many seasoned campers suggest getting Primer Camping, for shorter wait times for the shower and includes a free shuttle to the festival gates 24 hours a day.
Summer Camp Music Festival has a bit of everything: jam bands, electronica, hip hop, bluegrass and funk. Hippy friendly fun. Set between an open field and forest, if you get there early, you can pick a prime camping spot. General camping is tent only, so bring a wagon to transport your stuff.
Bonnaroo Many people make the annual pilgrimage to this festival not only for the music, but for community it has created. It attracts musicians and music lovers alike, some people spend more time listening to music around the campsites than at the main stage. Due to its rural location, there's no sound ordinance so you can enjoy late night music sets.
Sonic Bloom is an electronic, transformational festival out in nature, so expect to see an incomparable view of the Milky Way along with trip hop, ambient, glitch and house acts. It's known for its relaxed, easy going vibe. Stake your tent down well, as weather is unpredictable and a solid pair of boots for the cactus needles aren't a bad idea either.
Electric Forest is an eclectic mix of electronic, world and jam band. The grounds are spread out, so be prepared to have a journey between sets. There's magic out in the forest!
Firefly is set in the woodlands, you can see headliners and emerging artists on 7 different stages. Bring your own hammock to hang out in the trees. General admission camping can be a 30 minute walk to the festival entrance.
Lockn is spread over two farms encompassing 5,000 acres, so bring a bike if you want to get around faster. With a wide-range of musical genres, there's something for everyone.
Canada
Future Forest is self-described as an outdoor camping arts gathering with a focus on electronic music. It has three stages set in an old growth forest along a winding river in New Brunswick creating a special atmosphere to experience.
Shambhala Music Festival started as a grassroots concept that still continues today and is funded without corporate sponsorship. Known as a leading event in the underground electronic music scene, it showcases over 700 artists. Motion Notion is a trance and bass festival in the heart of the Canadian Rocky Mountains. Billed as an "intimate music, camping, and arts experience set in the pristine wilderness of North America." It has a unique vibe and even has riverside camping.
Wondering what's the ideal tent for music festival camping in North America? The Sibley 450 Ultimate is a great choice! It's waterproof, breathable and roomy enough to move around in, which is ideal for music festival camping since you'll be spending a few days in it and can invite your friends over. The sides roll up for hot days when you want to catch the breeze and sleep in a little longer. Check out our blog on how to choose a tent for festival camping to learn more!