Top Music Festivals for Camping around the world
Festivals are like their own little universes and music festival camping puts you in the middle of that colorful atmosphere where you get to meet like minded people, go on adventures and feel like you're part of it all. While a festival lasts only a few days, the connections you make there can last a lifetime.
So what are the top music festivals around the world for camping?
Probably the ultimate camping festival experience, Burning Man, with its principles of radical inclusion, self-reliance and self-expression, is one of the most unique gatherings in the world. A source of awe-inspiring art, mind altering music, dust storms and smiling faces, it's on many people's bucket list and has influenced people all over the world. Before you go, read their 10 principles and survival guidelines so you know what to expect and what to do with your MOOP.
Always wanted to go to Burning Man, but you live on the other side of the world from Black Rock City? Check out one of the regional Burning Man events closer to you. In Europe, Nowhere in Spain or Burning Nest in the UK are great gatherings to experience and participate in the art and community. Other regional events around the world: Midburn in Israel, AfrikaBurn in South Africa, Dragon Burn in China, Burning Seed or Blazing Swan in Australia.  
North America
Motion Notion is a trance and bass festival in the heart of the Canadian Rocky Mountains. Billed as an "intimate music, camping, and arts experience set in the pristine wilderness of North America." It has a unique vibe and even has riverside camping.
Symbiosis Gathering is inspired by novelty, community and authenticity. It may not have bands you've heard of, but it's an open-minded, eco-conscious, and intimate experience alongside a lake that brings people back every year.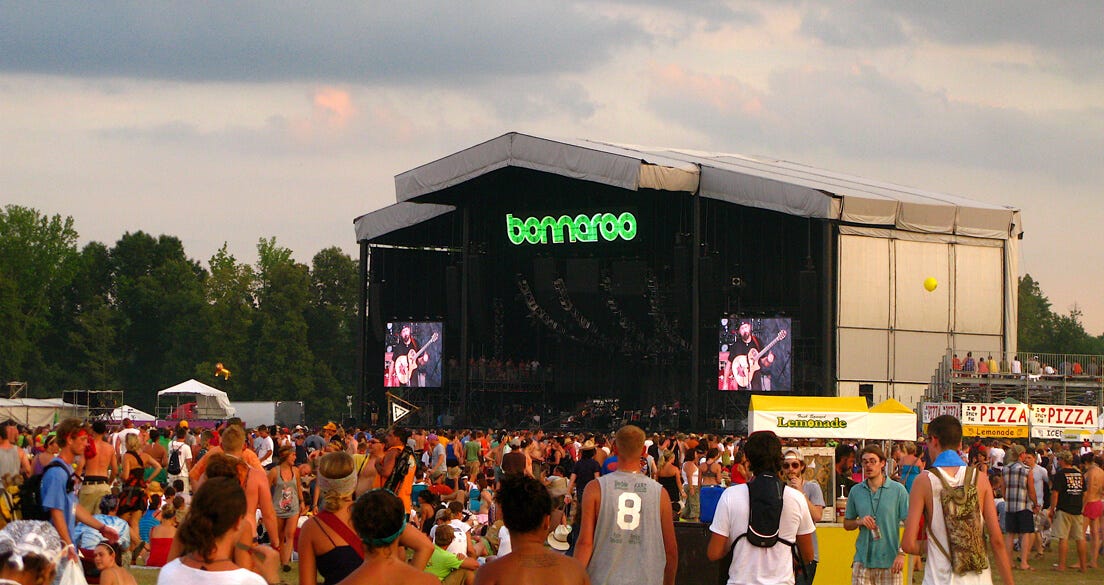 Bonnaroo Many people make the annual pilgrimage to this festival not only for the music, but for community it has created. It attracts musicians and music lovers alike, some people spend more time listening to music around the campsites than at the main stage. Due to its rural location, there's no sound ordinance so you can enjoy late night music sets.
Europe
Down the Rabbit Hole called Lowlands little brother, this festival is the definition of Dutch gezelligheid. Camping is close to the festival bordering along a lake to cool off after a warm day.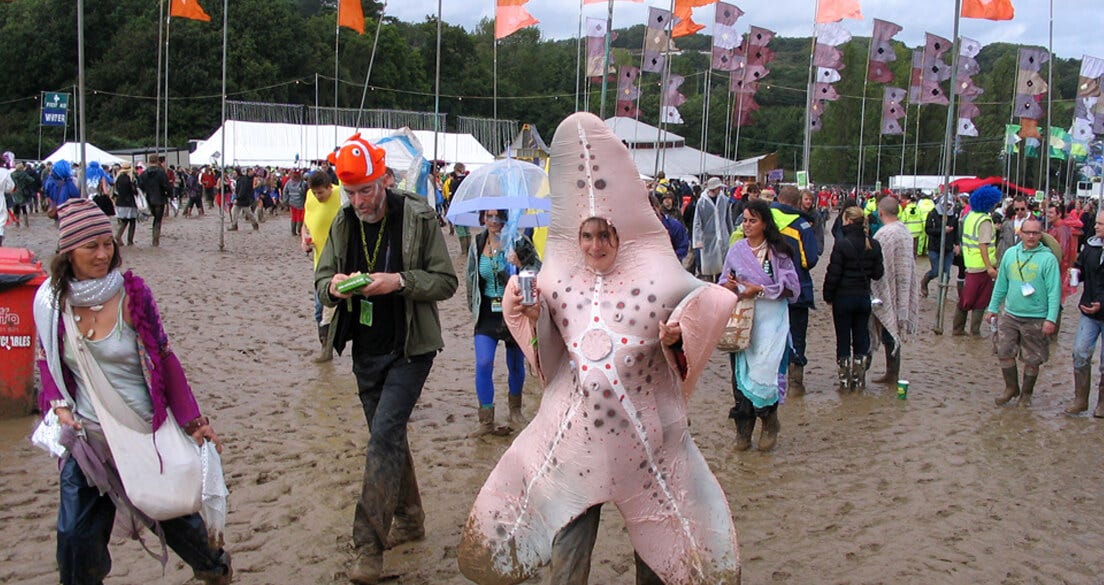 Bestival A playful festival, that encourages dressing up in costumes, focuses on indie and dance music, art and circus acts. A variety of different types of camping available, you can even reserve a spot with your friends with Camping Plus if you know you won't all arrive at the same time.
Australia
Splendour in the grass playing indie rock, electronic, hip hop and alternative, you'll never get bored here. Some say it's the best festival down under. Even though it's wintertime here, don't forget your sunscreen. A dizzying array of camping choices, either on or off site.
Falls Festival with everything from rock, roots, electronic to blues music, along with dance, theater, comedy, cabaret and circus performers, this festival celebrates the arts.   
South America
Cosquín Rock located in Córdoba, Argentina, it offers two days of international and domestic varieties of rock music with a cool vibe and a shot of Fernet.
Woodstaco with 4 stages and more than 100 bands, you'll get your fiesta on at this independent rock festival in Chile.
Central America
Envision Music & Arts Festival  is centered around music, spirituality, yoga, sustainability and learning in the tropics of Uvita, Costa Rica.
Wondering what's the ideal tent for music festival camping? The Sibley 300 Ultimate is a great choice! It's waterproof, breathable and roomy enough to move around in, which is ideal for music festival camping since you'll be spending a few days in it and can invite your friends over. The sides roll up for hot days when you want to catch the breeze and sleep in a little longer.